Anatomy of a Exterior Door
New exterior doors can increase your home's value through greater curb appeal. When upgrading your exterior doors, there are many details to keep in mind. From architectural style to interesting details like a knocker or decorative glass, there are many ways you can transform a basic front door into a grand entrance.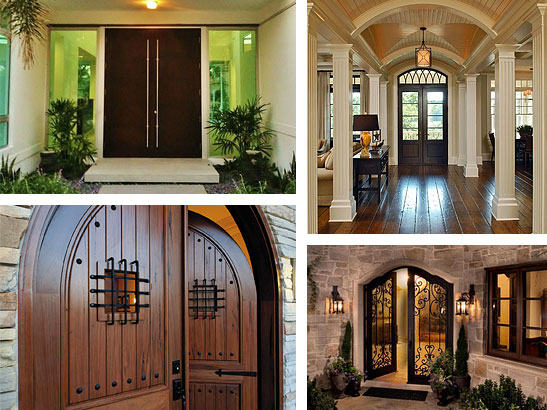 Double Doors
Twice the beauty and character of single doors, and perfect for getting large furniture through.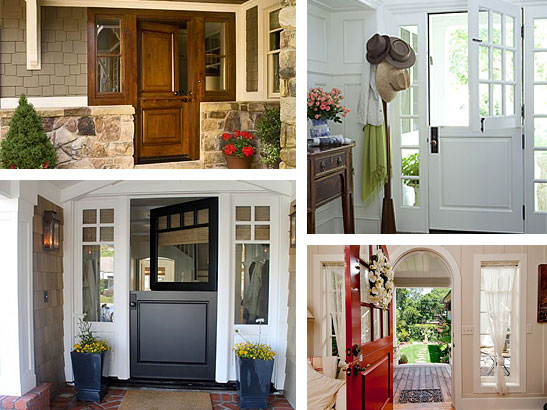 Dutch Doors
A Dutch door, or half door, is a door divided that the bottom half may remain shut while the top half opens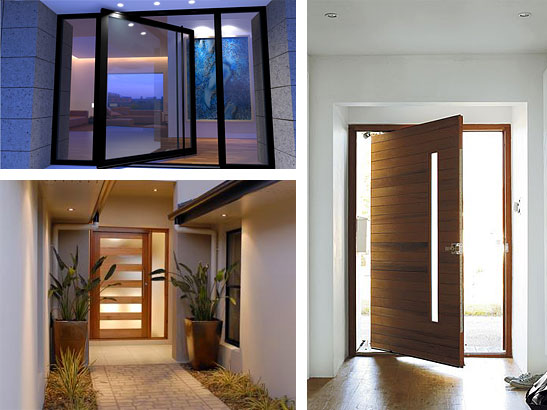 Pivot Doors
A bold, custom entry door without comparison that uses a pivot, not a hinge.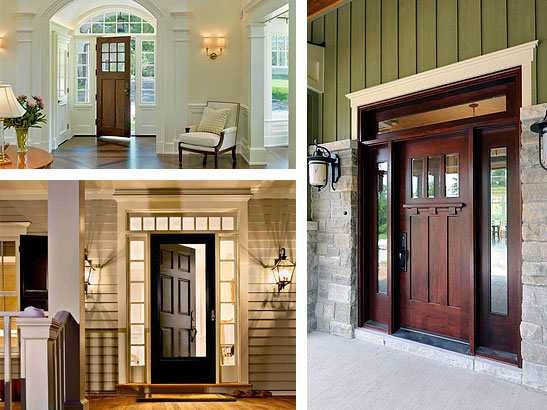 Single Doors
Our most common door and also the most cost effective way to add spice to your curb appeal.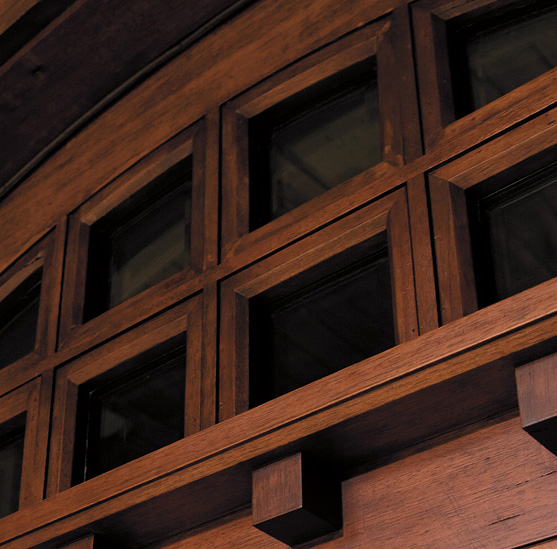 Material Matters
Exterior doors are available in an incredible variety of designs. From traditional steel to ornate, hand-carved wood, you can find a door for any taste or budget.
Steel - Steel is the most affordable option today and is a good choice for most climates. It offers strength and durability, and requires only minimal maintenance and upkeep. Dress up a steel door with decorative glass inserts.
Fiberglass - Fiberglass doors come in an immense variety of styles with or without decorative glass inserts, and many offer the look of real wood at all budget levels. Fiberglass is built to withstand any climate, and requires minimal maintenance.
Wood - If your home calls for a stunning entry statement with a handcrafted touch, wood may be the best material for you. Wood doors should be repainted or refinished every year or two to prevent splitting and warping, and they are best maintained under a proper overhang.
Engineered Composite - Engineered Composite doors are made with a patented technology that combines weathering resistance, durability and dent resistance. They are stable even in extreme temperatures.
Beauty is in the Details
There are a number of features to consider with any exterior door choice.
Door Configurations - Entry doors are available in many configurations to make the most of your entrance. Choose a single door, or a double door to create a grand entrance with twice the opening space. Add a sidelight or two to give the illusion of a larger entry, or bring additional light into your foyer.
Door Swing - Doors are available as inswing (I/S) or outswing (O/S) models. This simply refers to which way your exterior door will swing: outward (toward the outside of the house) or inward (toward the inside). Most homes are built to accommodate inswing doors, however, your entry door can be designed to swing outward if preferred.
Door Handing - This refers to the direction that the door swings. When viewed from the outside, if the hinges are on your left side and the door is pushing away from you, it is a left hand (LH) inswing. If the hinges are on your right side and the door is pushing away from you, it is a right hand (RH) inswing.
Panel Type - Choosing the right panel type and glass option will help you transform your home into the showplace you desire. Doors are available as an all panel style or with a glass panel insert.
Glass Options - The glass you select for your door can add both style and performance benefits. You can choose from performance features like impact-resistant glass for storm concerns, or Low-E glass to improve energy efficiency and provide UV protection. Style features include decorative glass, or textured glass and blinds between the glass for added functionality and privacy concerns.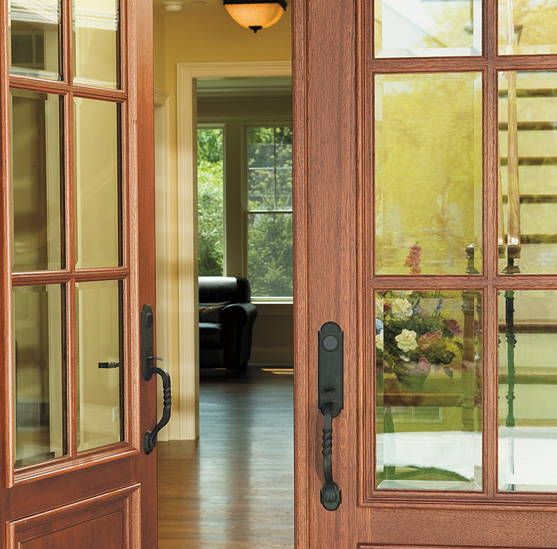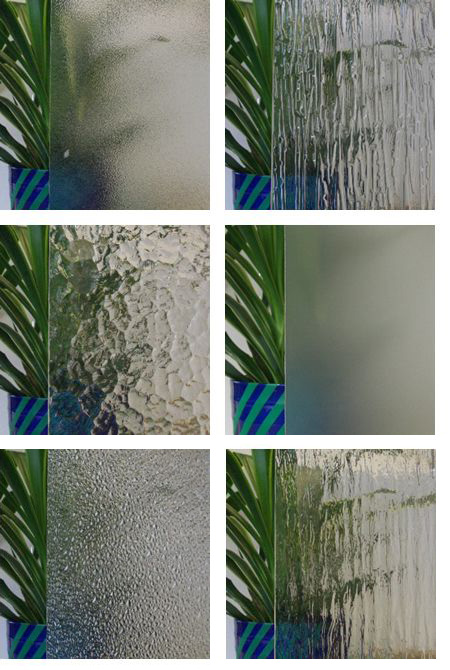 Glass Options
We offer more glass options than you can imagine, from subtly textured to boldly colored. These options let you add individuality to our windows while increasing natural light and energy efficiency in your home.
The glass you select for your windows can add both style and performance benefits. Impact-resistant glass will provide protection against hurricane-force winds and intruders. Low-E glass will provide energy efficiency benefits and protection against UV fading. Decorative and textured glass provides varying degrees of privacy and adds charm.
Energy Efficient Glass - Stay cool in summer, warm in winter, and protect furniture against fading from sunlight. Look for windows that are ENERGY STAR qualified for increased energy savings.
Protective Glass - Your home should be protected from dangers such as storms, intruders, fire, loud noises and wear on the products. Selecting glass options such as impact resistant glass, tempered glass, sound reducing glass and options that protect the glass help accomplish these goals.
Textured Glass - Add a distinctive touch to our windows with textured glass, which lets in light while maintaining privacy.
Tinted Glass - Our tinted glass is ideal for climates with intense sunlight. It reduces glare and visible light transmittance.
Decorative Glass - This glass will brighten your home without compromising privacy. With all the decorative glass designs we offer, there is sure to be one to match your home's architectural style.