Anatomy of a Patio Door
Patio doors are one of the most popular features of any home. They provide convenient access while creating unimpeded views that flood interior spaces with natural light. While old-style patio doors were notorious for heat loss, leakage and poor security, modern doors offer significant improvements.

Frames and glass are more energy efficient, many products incorporate multi-point locking mechanisms for better security and sophisticated flashing packages prevent leakage. As with any window or door today, there are many choices when it comes to choosing a patio door. With this guide, we hope to help you make the right ones.
Sliding Patio Doors
sometimes called gliding doors or bypass doors – are extremely popular. They let in a lot of natural light and are easy to maintain. Sliding doors consist of two or more individual panels, at least one of which slides back and forth on hidden rollers. The sliding panels can be combined with fixed panels to create dramatically broad expanses of glass. Panels slide parallel to the wall so they don't interfere with furniture placement or walking areas.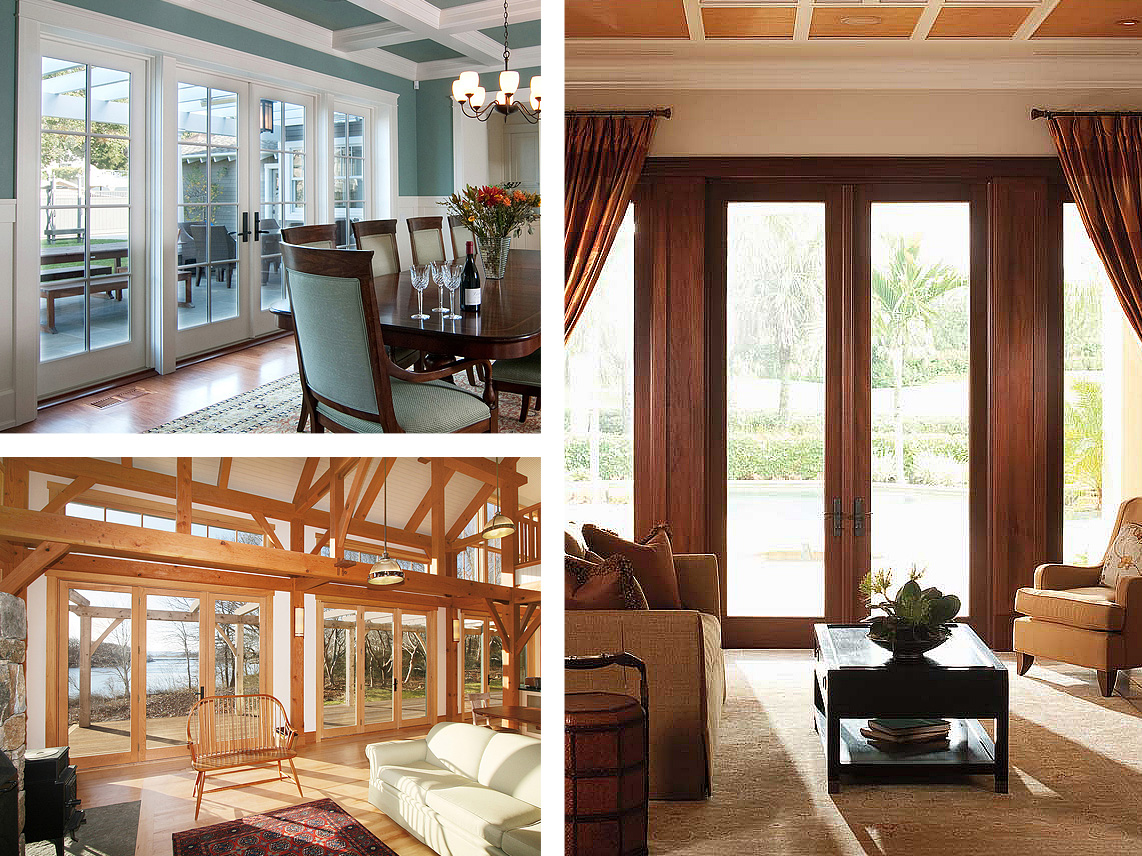 Swinging Patio Doors
sometimes called hinged patio doors, operate in much the same fashion as standard exterior doors. They are full view glass panels and often hang in pairs. The doors are center hung, hinged on either side of a central mullion and open much as butterfly wings. A second type of hinged patio door is the French door. French doors are hinged at the side jambs so that the door panels meet when closed. The latching mechanism is contained in an astragal mounted to one of the doors. When French doors open, the entire area between the hinges is clear.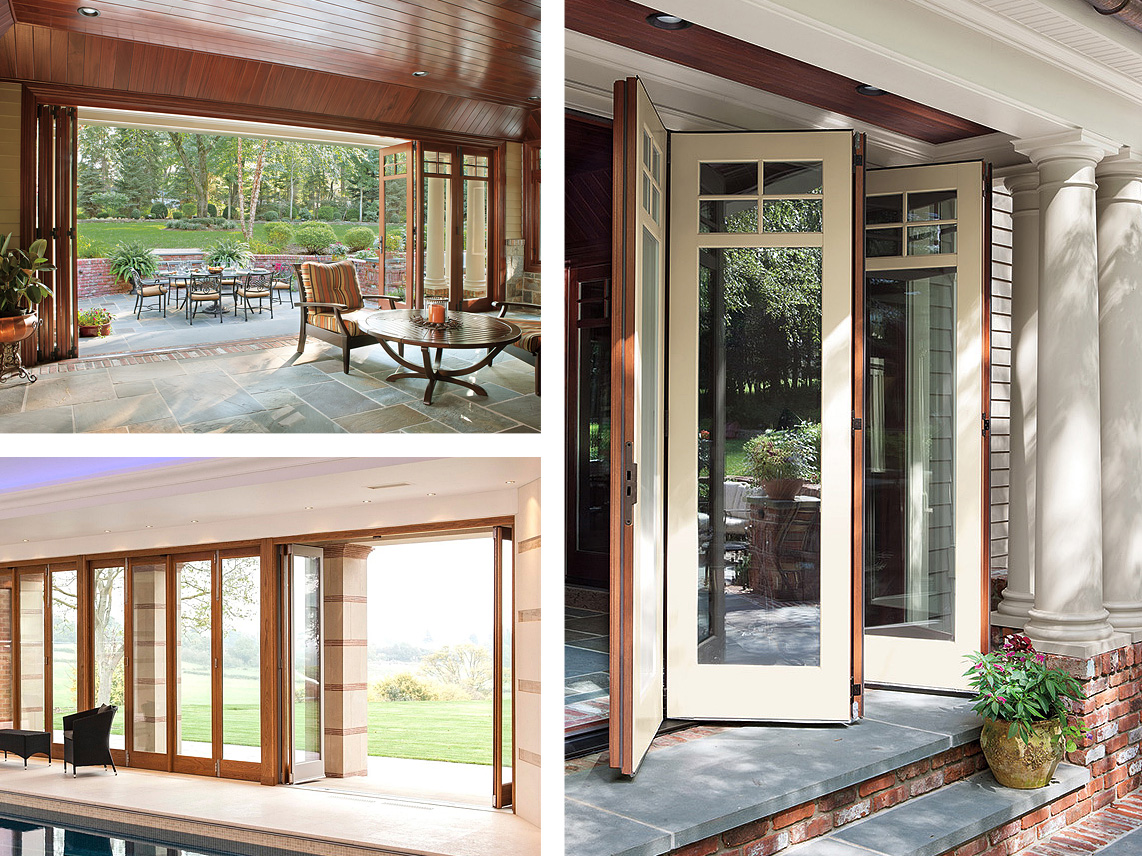 Folding Patio Doors
a folding patio door system can open a wide area to the great outdoors. The system operates accordion-style, which means each section slides on an overhead track and neatly folds away for full access. They are available in several configurations, ranging from two to eight leaves.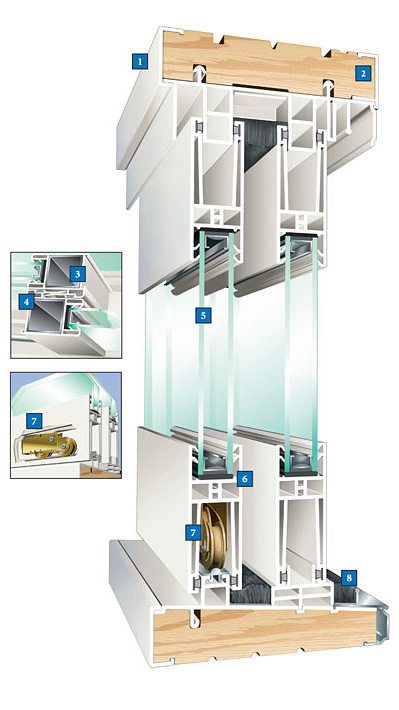 Materials
While design options can seem almost endless, for construction it comes down to fiberglass, vinyl, aluminum, steel, wood and clad-wood offerings. Your choice depends on what factors are most important to you.
Fiberglass - This material features both the feel and look of genuine wood, right down to the knots and cracks, with less upkeep. In fact, these doors are built to consistently withstand the rigors of any climate - hot or cold, wet or dry.
Aluminum - A lightweight and strong material that is a cost effective alternative to wood. This material is corrosion-resistant and performs well in most climates.
Steel - An economical option, steel offers strength and durability and is a good choice for most climates. These doors are also treated to deliver superior rust-resistance. They will require only minimal maintenance (in especially moist areas, they may require minor upkeep).
Vinyl - A strong plastic material that is used for its durability, energy efficiency and ability to stand up to the elements. This material will never fade in color, flake, peel or rot.
Wood - Wood comes from trees that grow in a variety of species, such as fir, pine, mahogany or alder. Each species has a range of characteristics, like grain, color and sap content, which contributes to its unique appearance.
Clad-Wood - Like a coat of armor, cladding is a strong layer of metal on wood, providing extra protection and low maintenance benefits with no exterior painting required.
Choosing the Perfect Patio Door
Patio Doors Bring a Fresh Approach to Outdoor Living
For years, it squeaked and squealed and stuck.
Finally, after updating the landscaping and creating a beautiful new outdoor living space, the Hodges had had enough. They switched out their old original sliding patio door with a show-stopping new Custom Fiberglass folding door system.
"It has literally changed our view of the space and how it works with the rest of the house, providing much greater access and openness," said homeowner JoJo Hodges. "Frankly, we enjoy our outdoor area all that much more because of it."
The right patio door will help highlight and enhance outdoor living spaces, making them more useable and comfortable. What makes for a good patio door is a combination of personal taste and practical considerations.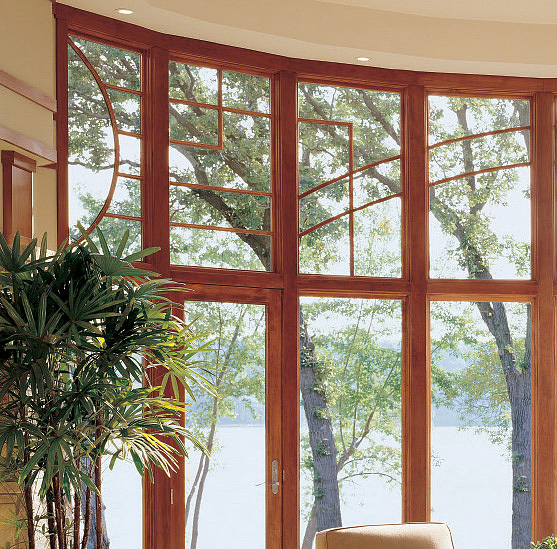 Six Tips for Choosing the Perfect Patio Door
Tip 1: Get into the Swing of It
Swinging and French doors need clearance room to open, but can help maximize access between the indoors and outdoors, while sliding doors fit well wherever space is tight. Consider factors such as furniture and wall placement before determining which opening method works best for the space. Other options include a stationary panel combined with one swinging door.
Tip 2: Explore the Great Wide Open
Wider doorways provide greater access and a stronger sense of connection to the outdoors. They can also become beautiful focal points, as with our Folding Patio Door system that can literally open up an entire wall. Homeowners can choose systems to create an opening as wide as 48 feet. We also offer a 90-degree option for its Folding Patio Door system that meets in the corner, with no post required.
Tip 3: Take a Fresh Approach
Let in a breeze to cool off or to air out your house with the fresh scent of the outdoors. We offer a variety of screen options, including retractable screens, to let in air without letting in bugs. To add some style and charm to your house, consider a Dutch Exterior Door, which is literally cut in half to allow the top and bottom to operate independently. This way, you can open the top for fresh air and a view, while keeping the bottom closed to help keep track of children and pets.
Tip 4: Take Panes to Enhance Privacy and Protection
Glass is the main focal point for patio doors, and selecting the right type offers a number of benefits. Low-E glass helps lower energy bills all year and protects against UV fading. Decorative tempered glass can offer privacy, yet still allow for natural light. Our patio doors with optional Impact Guard provide protection against severe weather as well as potential break-ins. Our Vinyl Patio Doors are available with optional Blinds between the Glass to control light and views.
Tip 5: Make Friends with Low Maintenance
Choosing the right materials can reduce time and money spent on ongoing maintenance. Vinyl, fiberglass, aluminum and clad-wood patio doors weather well and never need painting.
Tip 6: Material World
Different materials offer different style, performance and price advantages. The right door effectively bridges the gap between indoors and out, so our experts advise people to consider their choices as carefully as they would any other aspect of their outdoor living space. By selecting the appropriate style and performance features, it's a decision that will pay off over the long run in many different ways. Wood, fiberglass, steel and aluminum Patio Doors offer large glass panels. Patio Doors in wood, fiberglass, vinyl and aluminum can help achieve different goals when it comes to coordinating with various architectural styles.